Still unsure about a long vs short engagement? Consider the following pros and cons to help you make a decision:
Planning a long engagement may be the best option if you have a busy lifestyle, or need extra time to save money for your wedding. A long engagement also allows you to plan your day at a more relaxed pace while taking into consideration your career and other commitments. Plus, with a longer lead time, you're much more likely to secure the venue and vendors you want. You can even get help from the wedding planner for getting the best wedding venues in Caerphilly.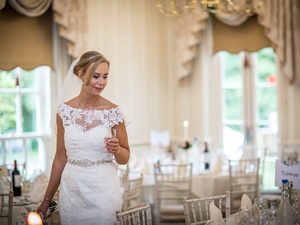 On the flip side, a longer engagement does give you more time to change your mind, and you may find it difficult to make decisions so far in advance. Some couples also describe a feeling of "wedding burnout" due to a long engagement, but this can be easily mitigated with a few wedding planning breaks along the way.
Alternatively, planning a short engagement might be the best option if you're ready to get married ASAP! A short engagement means you can start this new chapter together sooner rather than later, which will make the process feel super exciting. With less time to plan a wedding, you'll likely also find it easier to make quick decisions, set priorities, and focus on what's really important. Many wedding suppliers actually welcome last-minute bookings, and may even offer some flexibility with pricing.
However, a short engagement does mean you have lots to do in a short amount of time, which can feel overwhelming without a good plan of attack! It also means you'll have less time to save, so you'll be relying on the funds you already have. If you're planning an interstate or destination wedding, you may also find that some guests are unable to make travel plans at short notice.